Ok so we don't have this yet but the sky is currently so low, almost touching the trees outside, I'm almost willing the snow to fall and be done with it. We have just dashed into town for a paper and milk only to find it practically deserted and Waitrose' shelves almost empty......that's what happens with a snow forecast. Anyhow we are battened down now and lets see what happens.
The souper in the title of course refers to soup, just what this cold snap demands and Herb is the soup champion. Today we have had roasted pepper and tomato and yesterday was broccoli and Stilton.....both equally delicious. The broc and stilton is new to us but a revelation. yum
Am continuing with this today and want to add the double border by tonight if poss. Buying matching solids on line is very difficult....I so wanted a dark midnight blue for the border but a lighter one arrived.....c'est la vie.....not the end of the world.....I'm going to have a go at hand quilting this one and will show you the border next time
Have you discovered
pinterest
? another great way to while away hours at a time.....I kid you not if I am not careful my backside can be glued to this seat for days and days and nothing gets done. the house is falling down around me....ok I exaggerate, a bit of dust here and there. But check it out its a brilliant way to get ideas for all sorts of things and just some plain old beautiful images.
Saw this film last night, it was recommended by a friend who has recently been to Santa Barbara where the film was set. It was a bit of light relief, nothing serious or heavy but the house where it was filmed was wonderful and I really liked that Streep doesn't seem to have had any face work done, she was kind of looking her age and fabulous(unlike so many actresses and unlike Mr Steve Martin who sports a very weird look around the eyes.) Recommended.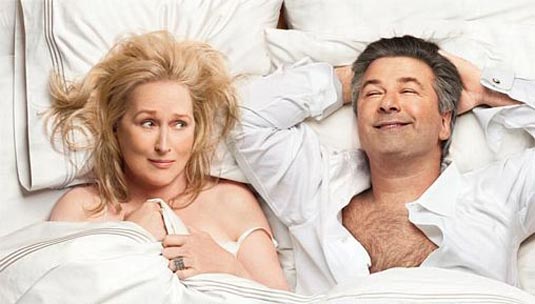 Tonight's
looking good, roast pork, saved bottle of Bordeaux and Borgen at 9. If you haven't watched this, try and catch up, its a treat. Not a bad life this empty nesting!! Great weekend everyone